Diverse offer
Catering and mercantile establishments:
The restaurants in Brist are Lidus, Riva and Mala Mare; caffe bars Porobilo and Zvijezda mora; cocktail bar Kačičevi dvori and shops: Korablja and Studenac.
Cultural tourism: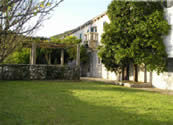 Within the Franciscan monastery in Zaostrog, which dates back to the XV century, you are welcome to see permanent exhibition of paintings, by one of the most famous Croatian painters in life, Mladen Veža (born in Brist, in 1916).

In Brist, you are welcome to visit the church of St. Margaret and the Church of St. Anthony of Padua.
Sport

:

Nearby Hotel "Laguna" in Gradac are three tennis courts placed at guests' disposal, including the night illumination. The guests can also rent the bikes, jet skies, motor boats, pedal-boats. The offer includes various aquatic sports, and if you like scuba diving, you should contact Diving Club "Felun" - Gradac.
There is an option for organised fishery.

Signed mountain trails are located above Brist, as well as signed walking and biking trails, running to the neighbouring settlements (in the length approx. 5000 m).
Excursions: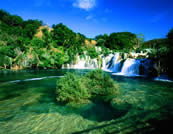 The organised excursions are the following: one-day boat excursions to isles Brač, Hvar, Korčula and peninsula Pelješac; daily excursions by bus to Dubrovnik, Makarska, Split, Međugorje-Mostar, the Krka Falls, and organised rafting on Cetina River.



Biokovo

Mountain :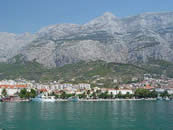 Brist is situated at the foot of Biokovo Mountain. Biokovo Mountain with the highest peak (1762 m) is a protected  Nature Park. As such, the mountain offer ranges from various possibilities for walking and hiking, organised excursions accompanied by the expert excursion leaders, to alpinist and speleological tours, and game hunting programmes (chamois and mouflons) provided by the agency.

The features of interest and landmarks on Biokovo Mountain are the Church of St. Margaret, dating back to the XV century, the birth-place of fra Andrija Kačić Miošić, Gornja Podaca with the Church dating back to the XI. Century, Paškal
above Gradac, etc.

IMPORTANT TELEPHONE NUMBERS
Breakdown Service: +385 1987
General Information: +385 18981
Information on Local and Long-distance Telephone Numbers: 988
Information on International Telephone Numbers: +385 11802
Forecast and Road Watch Report: +385 18166 | +385 72 777 777
Croatian Motoring Club: +385 1 1987
Call for general assistance: +385 112
Police: +385 192
Ambulance: +385 194
Fire department: +385 193
Search and rescue at sea: +385 195

TRAVEL-DOCUMENTS
If you plan to stay in Croatia up to 90 days, all you will need is a valid passport. If you come from the European states, most of American states or Japan, you will not need to have visa. However, for additional certainty, please check the list of the countries whose citizens do not need visa to enter Croatia. For that matter, we present the list of the countries whose citizens are allowed to enter Croatia presenting only the personal ID card of their domicile state. To obtain updated information on visa regime, please visit the web site of the Ministry of Foreign Affairs of Republic Croatia (Ministarstvo vanjskih poslova Republike Hrvatske) www.mvp.hr
HEALTH CARE
The foreign tourists do not pay the services of medical emergency aid if Republic Croatia and their domicile state have signed the Convention on Health Care. Otherwise, the medical services will be charged directly from the beneficiary, in accordance to the price list. The health care facilities are accessible in all towns - hospitals and clinics in all larger cities, and infirmaries, health centres, and pharmacies in all smaller towns.